Main Business: Foreign trade OEM, ODM orders
Main Products: Cycling Wear,Running Wear,Fitness Wear,Fishing Wear,Outdoor Wear,Sportswear etc
Main Marketing Country: Europe including Spain, Germany, Italy, France, etc., North America including US, Mexico, etc., South America including Colombia, Chile, Brazil, etc., Southeast Asia including Japan, South Korea, Thailand, Malaysia etc.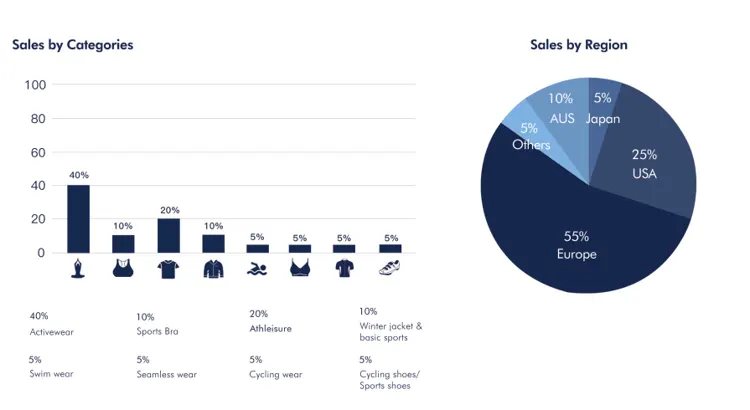 ODM & OEM for Sportswear Brands
Collaborative R&D and production: We collaborate with global brands to create customized sportswear and outdoor apparel.

Extensive product range: We specialize in a wide range of categories, including cycling wear, fishing wear, active wear & athleisure, winter jackets, seamless wear, and basic sports.

Cutting-edge fabric technologies: We incorporate the latest fabric technologies for optimal performance and durability.

Brand identity and market relevance: We ensure that our products reflect the brand's identity and meet market demands.
Small Order for New Brands
Lower minimum order quantities (MOQs): We offer accessible MOQs for new brands.

Access to premium materials: We provide high-quality materials for small orders.

Professional design support: Our experienced design team offers personalized samples and trend consultancy.

Efficient small batch production: We have a streamlined process for quick turnaround times.

Cost-effective solutions: We offer competitive pricing for emerging brands.
Private & White Label Services
Custom branded apparel: We help clients create their own branded apparel.

Existing or exclusive designs: Clients can choose from existing styles or develop exclusive products.

Brand image enhancement: Our services strengthen brand recognition and loyalty.

Competitiveness in the market: Private labeling sets clients apart from competitors.

Comprehensive support: We provide end-to-end support throughout the private label process.